Penname:
Mackenzielle
Real name:
Mackenzie L.
Member Since:
24 Nov 2010
Membership status:
Administrator
Bio:
My name is Mackenzie. I am in my early twenties, but I feel much younger. I love painting, playing piano, and obviously writing. :) You can find my other Fanfiction on FanFiction.net under the penname "Mackenzie L." here
My story Stained Glass Soul has been nominated in several Fan Fic Awards including the Avant Garde Awards, the Inspired Fan Fic Awards, and the Vampies Awards.
I appreciate any feedback on my writing either here or on FanFiction.net, and I respond to every review and PM I receive as I am able.
[
Report This
]
Stories by Mackenzielle
Behind Stained Glass
by
Mackenzielle
Rated:
PG13
[
Reviews
-
53
]
Summary: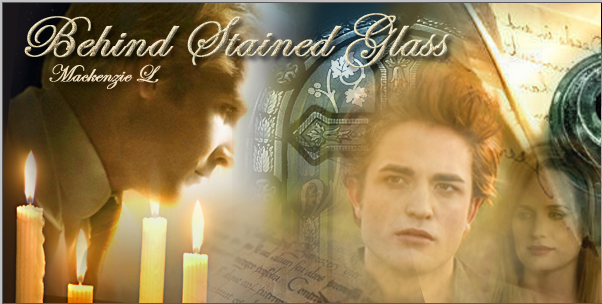 Companion story to "Stained Glass Soul"
The purpose of this companion story is to reveal more background and insight to Stained Glass Soul. The chapters posted here include missing scenes and chapters from either Carlisle or Edward's point of view.
Categories:
Pre-Twilight
Characters:
Carlisle Cullen
,
Edward Cullen
,
Esme Cullen
Genres:
None
Warnings:
None
Series:
None
Chapters:
27
Table of Contents
Completed:
No
Word count:
143655
Read Count:
39789
[Report This] Published:
31 Jan 2011
Updated:
19 Sep 2011
Stained Glass Soul
by
Mackenzielle
Rated:
PG13
[
Reviews
-
141
]
Summary:
She falls from a tree. She falls from a cliff. She falls in love. The love story of restless newborn vampire Esme Anne Platt and the shamelessly saintly Doctor Carlisle Cullen. Romance, religion, and rebellion ensue. Pre-Twilight, Canon.
Categories:
Pre-Twilight
Characters:
Carlisle Cullen
,
Edward Cullen
,
Esme Cullen
Genres:
None
Warnings:
None
Series:
None
Chapters:
52
Table of Contents
Completed:
No
Word count:
307418
Read Count:
95125
[Report This] Published:
24 Nov 2010
Updated:
19 Sep 2011